Overview
CloudSchool is our flagship hosting offering specifically designed for the education sector. The solution utilises the same platform as our Flex Compute service offering combined our one of our connectivity solution (MPLS or VPN). Together this allows you to move some or all of your onsite servers into a secure, highly available, UK based, ISO27001 certified cloud solution.
This is a proven solution within the education sector, we are already providing both full cloud or hybrid  hosting solutions to UK educational establishments.
Our setup explained
The CloudSchool platform has been designed from the ground up to by highly available and resilient. Your systems will be hosted in something we call a Pod; this consists of at least eight hypervisors, which are shared by other CloudSchool customers. Each pod also contains a storage platform, consisting of multiple machines using a mixture of superfast NVMe flash storage and slow speed SAS drives, your data is replicated 3x to provided added piece of mind.
All of the components within this pod are connected together using multiple 10Gbps connections with both redundant components and devices to ensure any risk of downtime is greatly diminished and your data is never at risk.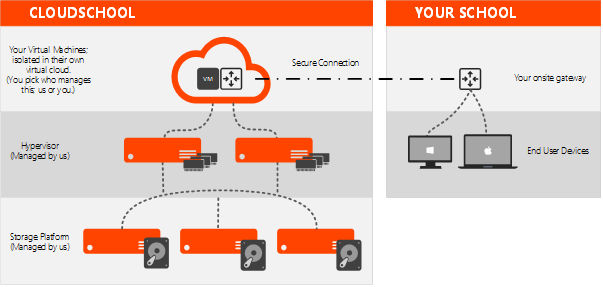 Scalable – The platform can scale up and down in response to real IT requirements within a few minutes.
Security and Compliance – Consolidate into one place for GDPR compliance and protect it using security controls that are not achievable within a school environment.
Reduced upfront and maintenance costs – No need to replace your servers every 3 years or budget for unpredictable hardware failures.
Efficiency – Let us manage and maintain your servers and free up your technical team to support your end users.